2016 – The final 169 countries that receive an Indonesia free visa entry
67 Visa On Arrival countries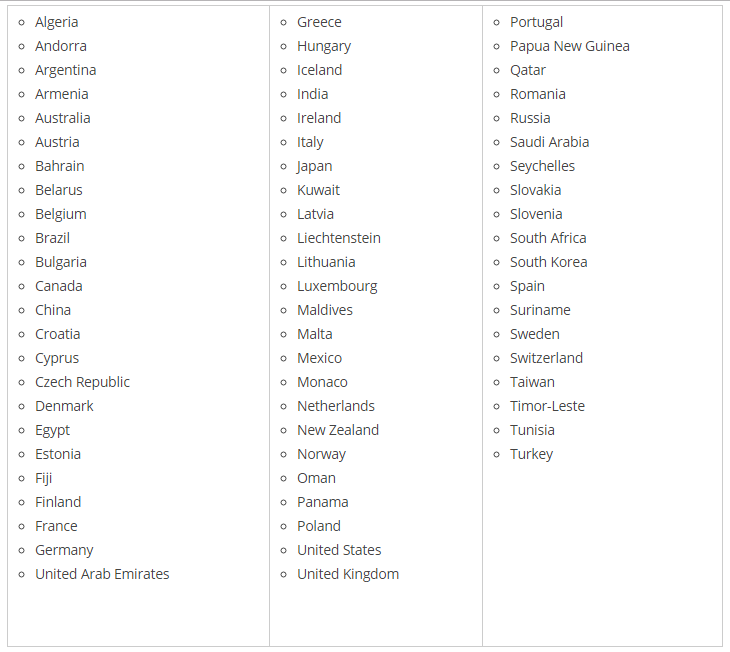 These are the 169 countries that receive an Indonesia free visa. The countries with an asterisk (*) are the 79 newly added countries for visa free entry.
Afrika Selatan;
Albania;
Aljazair;
Amerika Serikat;
Andorra;
Angola;
Antigua dan Barbuda;
Arab Saudi;
Argentina;
Armenia;
Australia;
Austria;
Azerbaijan;
Bahama;
Bahrain;
Bangladesh;
Barbados;
Belanda;
Belarusia;
Belgia;
Belize;
Benin;
Bhutan;
Bolivia;
Bosnia dan Herzegovina;
Botswana;
Brazil
Brunei Darussalam;
Bulgaria;
Burkina Faso;
Burundi;
Ceko;
Chad;
Chili;
Denmark;
Dominika (Persemakmuran);
Ekuador;
El Salvador;
Estonia;
Fiji;
Filipina;
Finlandia;
Gabon;
Gambia;
Georgia;
Ghana;
Grenada;
Guatemala;
Guyana;
Haiti;
Honduras;
Hongaria;
Hongkong (SAR);
India;
Inggris;
Irlandia;
Islandia;
Italia;
Jamaika;
Jepang;
Jerman;
Kamboja;
Kanada;
Kazakhstan;
Kenya;
Kepulauan Marshall;
Kepulauan Solomon;
Kiribati;
Komoro;
Korea Selatan;
Kosta Rika;
Kroasia;
Kuba;
Kuwait;
Kyrgyzstan;
Laos;
Latvia;
Lebanon;
Lesotho;
Liechtenstein;
Lithuania;
Luksemburg;
Macao (SAR);
Madagaskar;
Makedonia;
Maladewa;
Malawi;
Malaysia;
Mali;
Malta;
Maroko;
Mauritania;
Mauritius;
Meksiko;
Mesir;
Moldova;
Monako;
Mongolia;
Mozambik;
Myanmar;
Namibia;
Nauru;
Nepal;
Nikaragua;
Norwegia;
Oman;
Palau;
Palestina;
Panama;
Pantai Gading;
Papua Nugini;
Paraguay;
Perancis;
Peru;
Polandia;
Portugal;
Puerto Rico;
Qatar;
Republik Dominika;
Romania;
Rusia;
Rwanda;
Saint Kitts dan Navis;
Saint Lucia;
Saint Vincent dan Grenadis;
Samoa;
San Marino;
Sao Tome dan Principe;
Selandia Baru;
Senegal;
Serbia;
Seychelles;
Singapura;
Siprus;
Slovakia;
Slovenia;
Spanyol;
Sri Lanka;
Suriname;
Swaziland;
Swedia;
Swiss;
Taiwan;
Tajikistan;
Tahta Suci Vatikan;
Tanjung Verde;
Tanzania;
Thailand;
Timor Leste;
Togo;
Tonga;
Trinidad dan Tobago;
Tunisia;
Turki;
Turkmenistan;
Tuvalu;
Uganda;
Ukraina;
Uni Emirat Arab;
Uruguay;
Tiongkok;
Uzbekistan;
Vanuatu;
Venezuela;
Vietnam;
Yordania;
Yunani;
Zambia;
Zimbabwe.